---
Impact of COVID-19 on emergency appendectomies and cholecystectomies
Lee Ying
1
, Shin Mei Chan
2
, John Morton
1
, Saber Ghiassi
1
1
Surgery, Yale New Haven Hospital, New Haven, Connecticut, United States,
2
Yale School of Medicine, New Haven, Connecticut, United States
Background: The early days of the COVID-19 pandemic abruptly brought elective healthcare to a pause. Interestingly, a significant decrease in the number of patients seeking non-elective, emergency medical care was reported as well. This study aims to characterize changes in case volumes and pathologic features of two common emergency general surgery procedures (appendectomies and cholecystectomies) in the early days of the COVID-19 pandemic.
Methods: Non-elective appendectomies and cholecystectomies at an academic-affiliated community hospital from January 2020 to April 2020 were reviewed. Average case length and diagnosis on final pathology were assessed. Cases from previous years were also reviewed for comparison.
Results: There was a decrease in the total number of nonelective laparoscopic appendectomies and laparoscopic cholecystectomies in March 2020 and April 2020 compared to the same month in 2018 and 2019. Additionally, both types of cases dropped sharply from February to March and remained low into April 2020. As stay-at-home guidelines and social distancing governances did not take into effect until late March, we focused our analysis on cases in the month of April. While there was not a significant difference in the percentage of acute or gangrenous cholecystitis in April 2020 compared to April 2018 and April 2019, there was a significant increase in the percentage of patients presenting with perforated appendicitis in April 2020 compared to April 2018 and April 2019 (p < 0.01).
Conclusion: It is the important to understand the effect of the pandemic on patient behavior seeking emergency care. Our results suggest it is likely that patients delayed seeking care for appendicitis, placing them at higher risk for perioperative complications and longer hospital stay. Public education regarding these behaviors is important.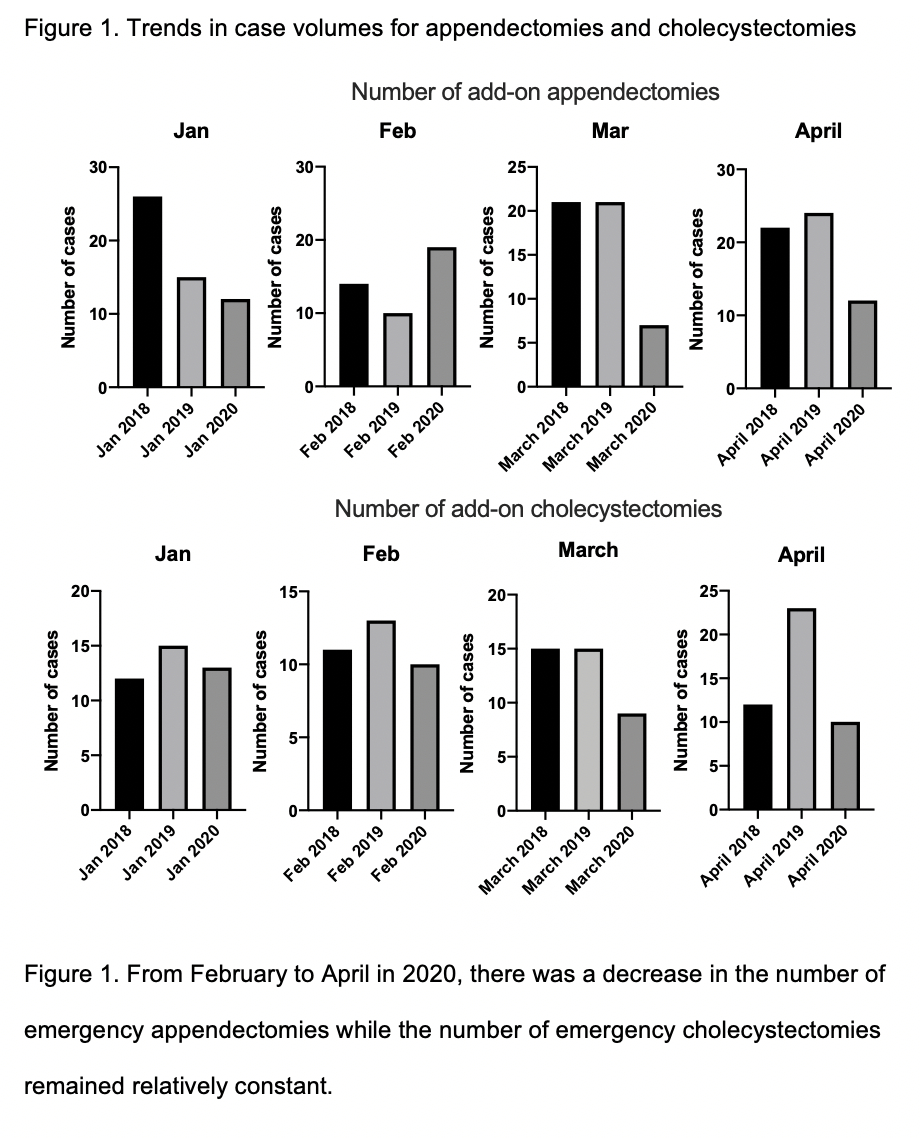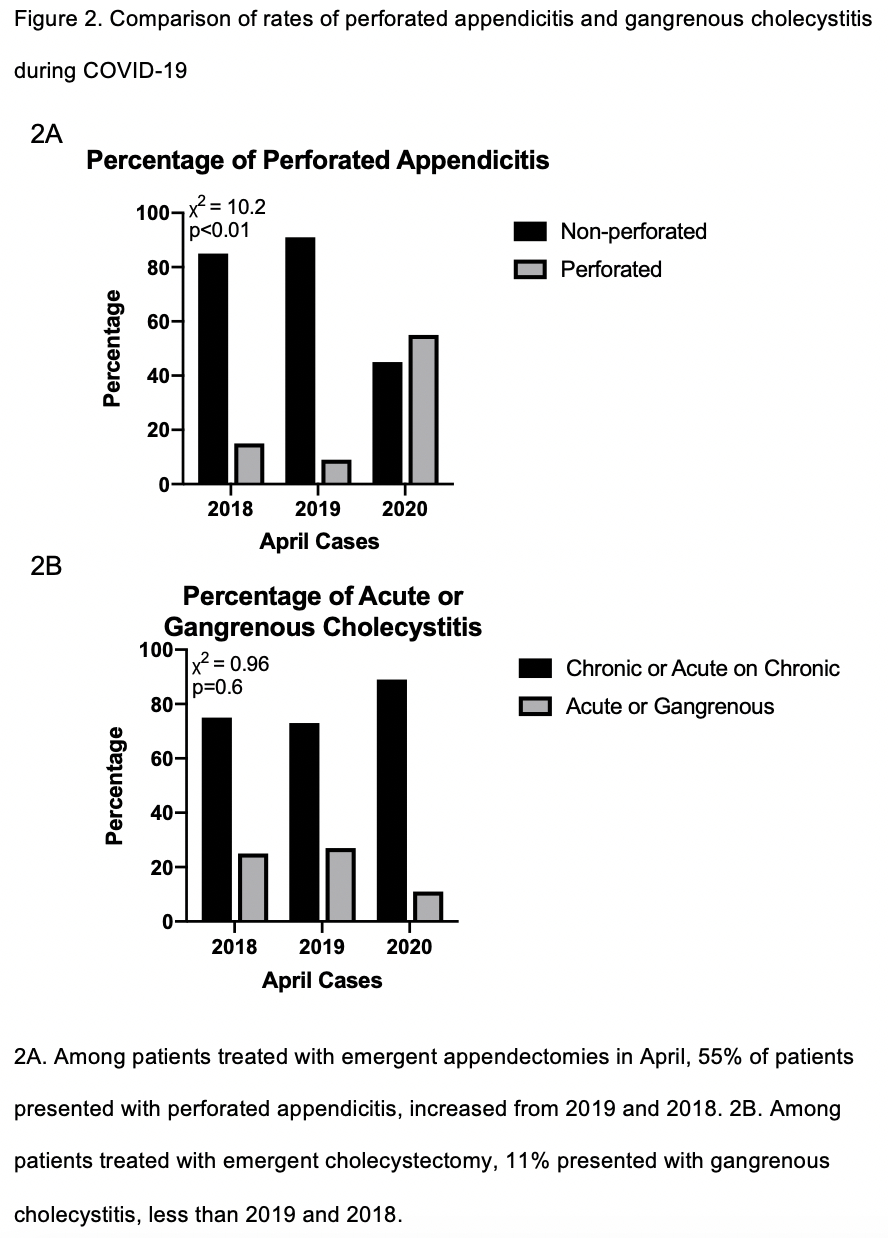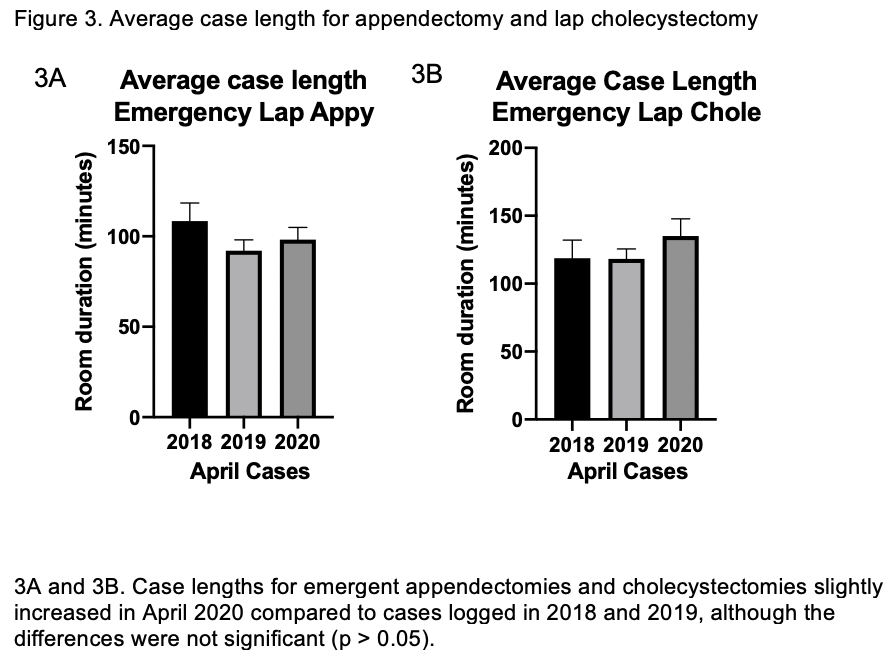 ---
Back to 2021 Abstracts