---
Nutrition Delivery and Growth Outcomes in Long-Gap Esophageal Atresia Infants who undergo the Foker Process
Amanda W. Harrington
1
, Jane Riebold
2
, Kayla Hernandez
2
, Steven Staffa
3
, Wendy J. Svetanoff
4
, David Zurakowski
3
, Thomas Hamilton
1
, Russell Jennings
1
, Nilesh Mehta
3
, Benjamin Zendejas
1
1
Department of Surgery, Boston Children"s Hospital, Boston, Massachusetts, United States,
2
Division of Gastroenterology, Hepatology and Nutrition, Boston Children"s Hospital, Boston, Massachusetts, United States,
3
Department of Anesthesiology, Critical Care and Pain Medicine, Boston Children"s Hospital, Boston, Massachusetts, United States,
4
Department of General and Thoracic Surgery, Children"s Mercy Hospital, Kansas City, Missouri, United States
Objective:
To evaluate in-hospital macronutrient delivery and long-term growth in long-gap esophageal atresia (LGEA) patients who underwent the Foker Process (FP) as primary LGEA treatment. The FP relies on tension-assisted esophageal lengthening with long periods of mechanical ventilation, paralysis, and parenteral nutrition (PN), which makes nutritional care for these patients challenging.

Design:
Single-center, retrospective cohort study. Weight-for-age z scores (WAZ; normalized scale), macronutrient and clinical variables were collected. Longitudinal median regression was used to evaluate differences in WAZ over time. Multivariable median regression modeling examined predictors of change in WAZ at 1-year post-repair.

Setting:
Boston Children"s Hospital, a tertiary referral center.

Patients:
Primary FP LGEA infants from 2014 to 2020.

Interventions:
None, this is a retrospective study.

Outcome Measures:
Weight-for-age z score.

Results:
We analyzed 45 patients with a median (IQR) age at repair of 4 (2, 5.8) months, hospital stay of 79 days (55, 130), mechanical ventilation 21 (11, 30) and paralysis 13 (6, 19). PN was administered for 43% (30, 51) of the hospital stay. Full enteral feeds were achieved by postoperative day 35 (24, 40). Complications included: esophageal leak (n=7, 16%), urinary tract infection (n=9, 20%), bacteremia (n=8, 18%), and chyle leak (n=3, 7%). In-hospital WAZ remained stable but showed a non-significant decrease at 2 years (Figure 1; p=0.06). By 1-year post-repair, 43% were on full oral nutrition. Low admission WAZ was significantly associated with improvement in WAZ at 1-year follow-up (p=0.002); EA type, esophageal leak, days paralyzed, ventilated, on PN, or to full EN were not predictors of change in WAZ from admission to 1-year.

Conclusions:
Median WAZ for primary FP LGEA patients is below average throughout infancy. Despite complicated hospital courses, multidisciplinary care maintains in-hospital WAZ. However, efforts to maintain or improve nutritional status post-hospital discharge are needed.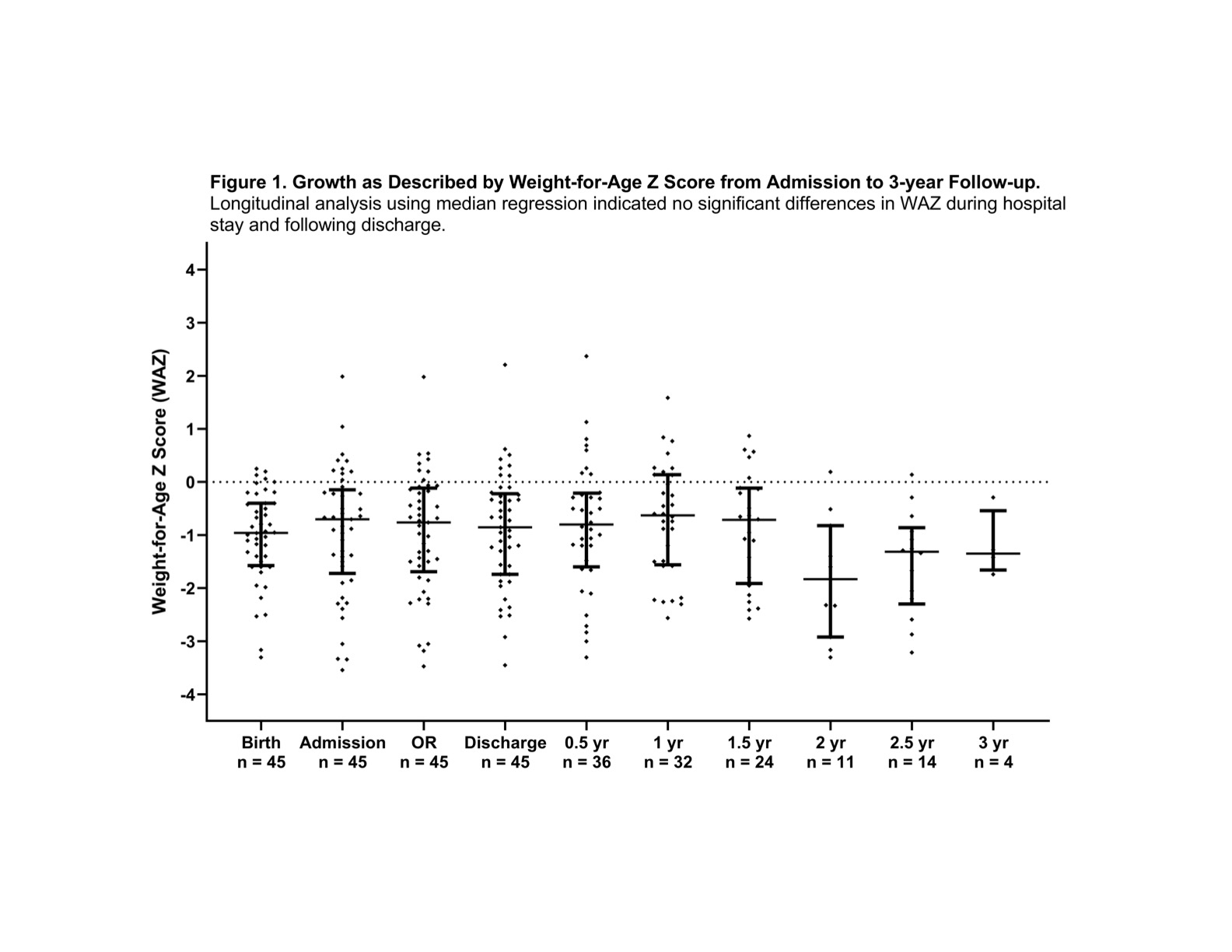 ---
Back to 2021 Abstracts