---
Too Sick or Not Too Sick? Transplant Center Variability in Delisting from the Kidney Transplant Waitlist and 1-Year Mortality
Claire M. Sokas
1
, *Syed Husain
3
, *James R. Rodrigue
2
, Ali Salim
1
, *Joel T. Adler
1
1Surgery, Brigham & Women's Hospital, Boston, MA, 2Surgery, Beth Israel Deaconess Medical Center, Boston, MA, 3Nephrology, Columbia University Medical Center, New York, NY
Objective: Despite policy changes to improve equity in kidney transplant access, management of patients on the waitlist lacks oversight. If a center determines that a candidate will no longer benefit from transplant, they can be removed ("delisted"). To better understand between-center differences in waitlist management, we examined the correlation between delisting rates and mortality after delisting for candidates deemed "too sick to transplant".
Design: Retrospective cohort study

Setting: Scientific Registry of Transplant Recipients
Patients: Adults who were listed for deceased donor kidney transplant from 2010-2015 and followed until the end of 2018. Patients of interest were those delisted for reasons other than transplant, death or transfer. Centers were excluded if they performed <10 transplants/year.
Main Outcome Measures: 1-year mortality for patients "too sick to transplant"

Results: From 2010-2015, 202,770 patients were listed for transplant at 198 centers. The median rate of delisting was 7.8 per 100-person years. Among candidates delisted for reason of being "too sick to transplant," the frequency of 1-year mortality was 32.5% (SD: 10.2%). There was a weakly negative correlation between frequency of delisting and 1-year mortality after delisting (r=-0.16). High-volume centers (>200 transplants/year, n=29) have lower rates of delisting and higher rates of death than low-volume centers (n=171) (35.5% vs. 32.2%, p=0.03) (Figure 1).

Conclusions: Only one in three patients deemed "too sick for transplant" die within one year of delisting, and there is no meaningful correlation between center-level rates of delisting and death. These findings show significant variability in center delisting practices, and suggest further work is needed to investigate and define policies on delisting, as well as the consideration of increased transparency in practice to ensure optimal patient outcomes.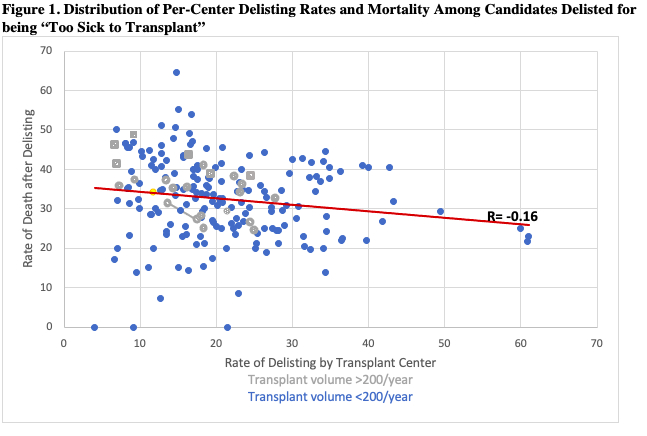 ---
Back to 2021 Abstracts