---
Structurally-engineered fatty acid 1024 (SEFA-1024) as treatment for non-alcoholic fatty liver disease
Jordan Secor, *Bennet Cho, *Amy Pan, Lumeng Yu, Victoria Ko, Mark Puder
Boston Children's Hospital, Boston, MA
Objective: Assess the efficacy of a novel drug, structurally-engineered fatty acid 1024 (SEFA-1024), in treating high fat diet (HFD)-induced obesity, steatohepatitis, and insulin resistance in a murine model.
Therapies are needed to treat the 24% of Americans with non-alcoholic fatty liver disease (NAFLD) and mitigate the shortage of liver transplant donors relative to recipients.
Design: Randomized, controlled trial in mice
Setting: Laboratory
Participants: C57BL/6 mice
Interventions: C57BL/6 mice were fed chow (10% kcal from fat) or HFD (60% kcal from fat) ad lib for 15 weeks.Subsequently, the HFD group were treated with SEFA-1024 or MCT as a vehicle control. After 5 weeks of treatment, all mice underwent oral glucose tolerance testing (GTT). One week later, body and organ masses, serum AST and ALT, and liver histology were analyzed.
Main Outcome Measures: Change in body mass, liver steatosis, hyperglycemia and hyperinsulinemia on GTT, and liver enzymes
Results: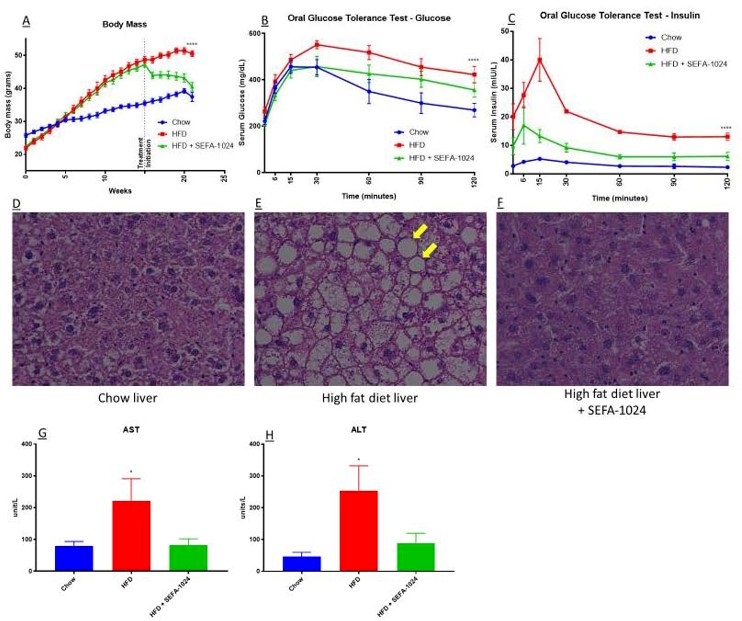 SEFA-1024 treats HFD-induced obesity, steatohepatitis, and insulin resistance. SEFA-1024 reversed obesity caused by HFD (A). On GTT, SEFA-1024 inhibited HFD-induced hyperglycemia (B) and hyperinsulinemia (C). Liver H&E staining (D-F) demonstrated HFD-mediated hepatic steatosis (E, arrows) which was treated by SEFA-1024 (F). Serum AST and ALT were elevated by HFD but not when treated with SEFA-1024 (G&H).
Conclusions: SEFA-1024 reduces HFD-induced obesity, hepatic steatosis, inflammation, hyperglycemia, and hyperinsulinemia in a murine model of chronic, diet-induced liver injury. SEFA-1024 demonstrates the potential to mitigate the deleterious effects of metabolic syndrome in obese patients which could reduce the prevalence of NAFLD and need for liver transplantation.
---
Back to 2020 Abstracts