---
The Effects of Less Invasive Extra-Pericardial Placement of Left Ventricular Assist Devices on Right Ventricular Failure in the Early Postoperative Period
*Kristin Stawiarski
1
, *Olayinka Agboola
2
, *Jiheum Park
2
, *Arnar Geirsson
2
, Pramod Bonde
2
1
Yale New Haven Health Bridgeport Hospital, Bridgeport, CT;
2
Yale University School of Medicine, New Haven, CT
Objective: We examined the differences in 90-day right ventricular failure (RVF) between less invasive extra-pericardial placement (LIEPP) of LVADs versus standard median sternotomy (MS).
Design: Retrospective analysis of all LVAD patients implanted between June 2011 and September 2018.
Setting: Single-center.
Patients: Of the 173 patients, six were excluded: four with RVAD placement before LVAD, one with giant cell myocarditis, and one with >40% missing data.
Interventions: LIEPP was performed in 36 patients and 131 had MS.
Main Outcome Measures: Outcomes for RVF including RVAD and bleeding were compared using Fisher's test for categorical variables, Mann-Whitney test for continuous variables, and multivariate for cause of RVF.
Results: Compared to MS cohort, the LIEPP group consisted of patients with greater age (62.8 vs 57.9 yrs) p=0.03; higher INTERMACS profile (INTERMACS 1 =72.2% vs 30.5%) p=0.0004; greater IABP use (44.4% vs 26.0%) p=0.03; higher preop BUN (mg/dL) 36.5(25.5 - 56.0) vs 28.0 (19.0 - 41.0) p=0.01; and lower preop hemoglobin (g/dL) 10.0 (8.8 - 11.7) vs 10.6 (9.8 - 12.2) p=0.01. LIEPP showed a significantly lower rate of bleeding through chest tube output (p=<.0001) and tended to require less transfusion (p=0.77). There were no RVADs required post LVAD (p=0.03) with LIEPP and fewer cases of RVF (8.3% vs 13.2%) (p=0.43). Multivariate regression did not reveal a significant association with RVF or RVAD use with LIEPP.
Conclusions: With pericardial integrity maintained, LIEPP reduces the 90-day incidence of RVF and need for RVAD. These trends were seen despite worse preop profile of the LIEPP group.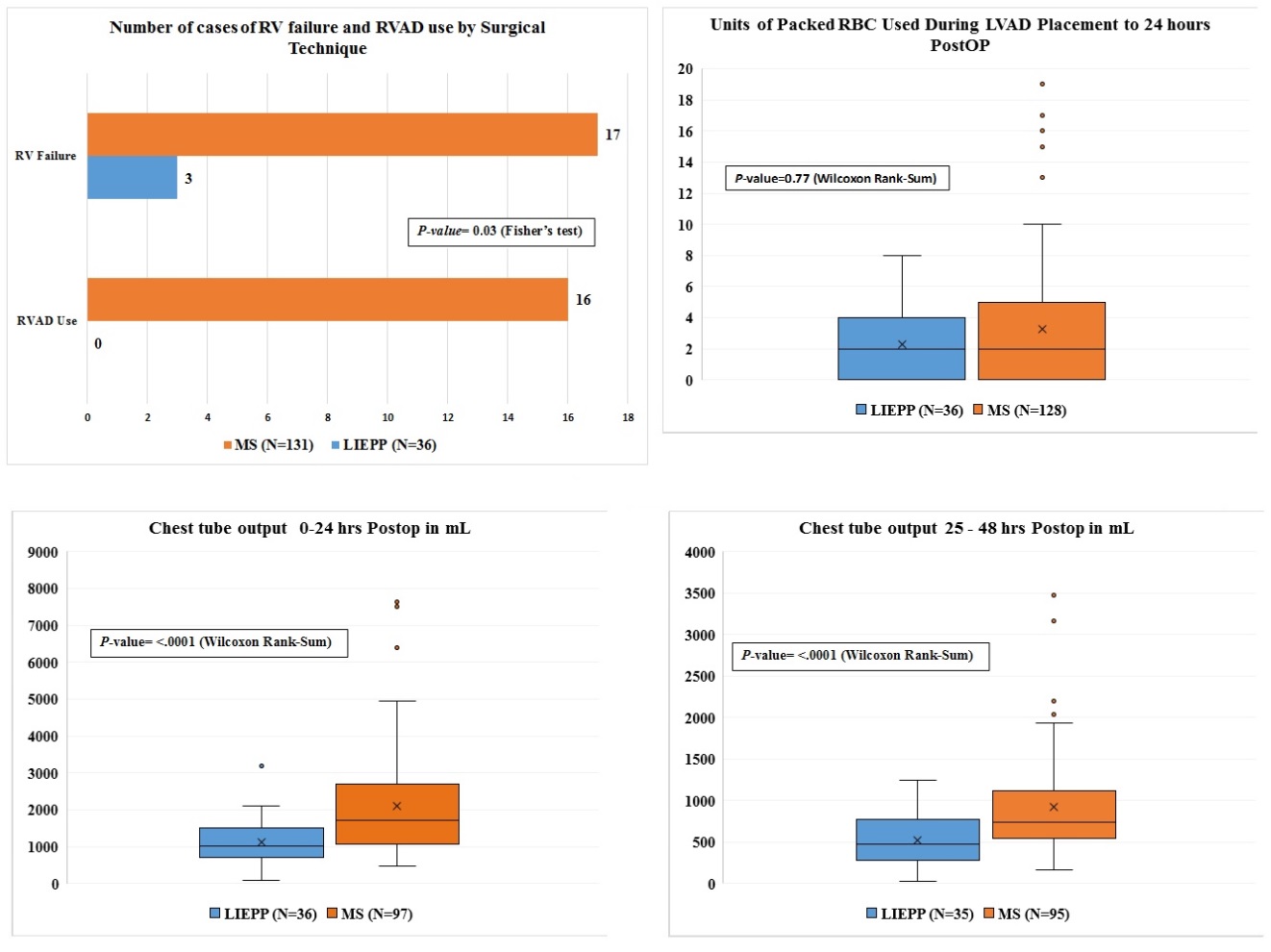 ---
Back to 2019 Abstracts