---
Multicenter Experience With Valve in Valve Transcatheter Aortic Valve Replacement Compared With Primary, Native Valve Transcatheter Aortic Valve Replacement
Michael P. Robich1, Bruce J. Leavitt2, *Megan Coylewright3, *James M. Flynn4, *Harold L. Dauerman2, *Matthew S. McKay5, *Alexander Iribarne6, Robert S. Kramer1, *Joseph P. DeSimone6, *Anthony W. DiScipio6, *Benjamin M. Westbrook4, *Yi-Ling Huang6, *David J. Malenka6, John D. Klemperer5, *Anahita Parsee2, *Yvon R. Baribeau4, *Peter N. Ver Lee5, Reed D. Quinn1, *David W. Butzel1, Northern New England Cardiovascular Disease StudyGrp
1Maine Medical Center, Portland, ME; 2University of Vermont Medical Center, Burlington, VT; 3Dartmouth-Hitchock Medical Center, Lebanon, NH; 4Catholic Medical Center, Manchester, NH; 5Eastern Maine Medical Center, Bangor, ME; 6Dartmouth-Hitchcock Medical Center, Lebanon, NH
Objective: Bioprosthetic surgical aortic valve prostheses are susceptible to structural degeneration. Valve-in-valve (ViV) transcatheter aortic valve replacement (TAVR) offers a solution.
Design: Retrospective
Setting: Five academic and community hospitals
Patients: Consecutive series of 80 ViV TAVR patients and 1,476 patients undergoing primary native valve TAVR from 2012 to 2017.
Interventions: Transcatheter aortic valve replacement
Main Outcome Measures: Morbidity and mortality
Results: ViV patients were less likely female (28.9% vs. 46.5%, P<0.001), younger (75 vs. 81 years, P<0.001), more likely to have prior CABG (36.3% vs. 24.3%, P=0.016), and urgent (30.0% vs. 10.2%, P<0.001). 30% of the patients had STS risk score <4%, 36.3% were 4-8% and 33.8% were >8%. Median time to prosthetic failure was 9.6 years (Interquartile range: 5.5-13.5 years). 82% of failed surgical valves were size 21mm, 23mm, or 25mm. ViV devices were Medtronic CoreValve (32.5%) and Edwards Sapien (67.5%). Access was 89% femoral, 10% transapical and 1% other. After ViV, 83.5% had none/trivial aortic regurgitation, 12.7% had mild and 3.8% had moderate Mean gradients were: <20mmHg in 60.8%, 20-29mmHg in 25.3%, 30-39mmHg in 6.3% and ≥40mmHg in 7.6%. In-hospital mortality was 0%. 30-day mortality was 0% in ViV and 3.7% in primary TAVR (P=0.082). Pacemaker rate in ViV was 3.8% and in primary TAVR was 8.5% (P=0.13). There was no difference in post-procedure myocardial infarction, stroke, or acute kidney injury (P>0.05 for all).
Conclusions: Compared to primary TAVR, valve in valve TAVR is less commonly performed, has similar peri-procedural morbidity, and results in relatively high post-procedure mean gradients.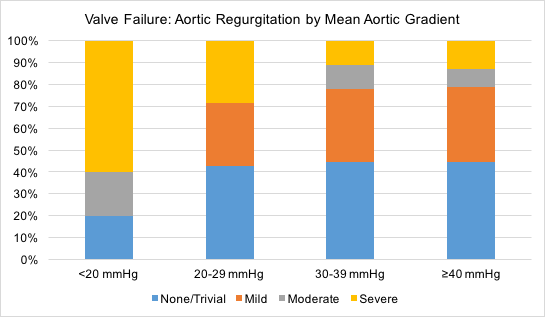 ---