---
Perioperative outcomes after thyroidectomy: Does the level of the first assist matter?
*Ravinder Kang1, *Jesse A. Columbo1, *Niveditta Ramkumar2, *Spencer W. Trooboff1, *Mark Eid1, *David T. Hughes3, Meredith J. Sorensen1
1Dartmouth Hitchcock Medical Center, Lebanon, NH;2The Dartmouth Institute, Hanover, NH;3University Of Michigan Medical Center, Ann Arbor, MI
Objective: Physician assistants(PAs) are increasingly employed to fill the role of first-assistant in the operating room, a role traditionally held by residents or fellows. The objective of this study was to understand the impact of first-assistant type (resident vs fellow vs PA) on perioperative outcomes for thyroidectomy.
Design: Retrospective cohort Setting: Hospitals participating in the Collaborative Endocrine Surgery Quality Improvement Program. Patients: Underwent thyroidectomy(N=12,040), between January 2014-June 2017 Intervention: N/A Main Outcome Measure(s): Transection of recurrent laryngeal nerve, post-operative hematoma, and post-operative vocal cord dysfunction. Results:Residents and fellows primarily assisted with neoplastic cases (48% and 50% of caseload respectively), whereas PAs most commonly assist with multinodular-goiter cases (40%, Figure 1A). Compared to PAs, residents and fellows operate on a higher proportion of patients with prior anterior-neck surgery (resident:11.7%, fellow:14.1%, PA:9.2%, p<0.005) and patients on anticoagulation medications (resident:22.0%, fellow:18.3%, PA:8.1%, p<0.005). On adjustedmulti-level logistic regression, where first-assistants were clustered by surgeon, we found that first-assistant type did not affect the likelihood of laryngeal nerve transection or post-operative hematoma. However, patients undergoing neoplastic thyroidectomy were 87% less likely to have post-operative vocal cord dysfunction when PAs assisted compared to residents (OR: 0.13 (95% CI: 0.03, 0.63), p<0.05); no difference was noted for multinodular-goiter cases (Figure 1B). Conclusion: There was a higher likelihood of postoperative vocal cord dysfunction when residents or fellows assist with neoplastic cases. However, surgical residents and fellows participated in a higher proportion of neoplastic and redo-neck cases, suggesting their preference for more technical cases in training.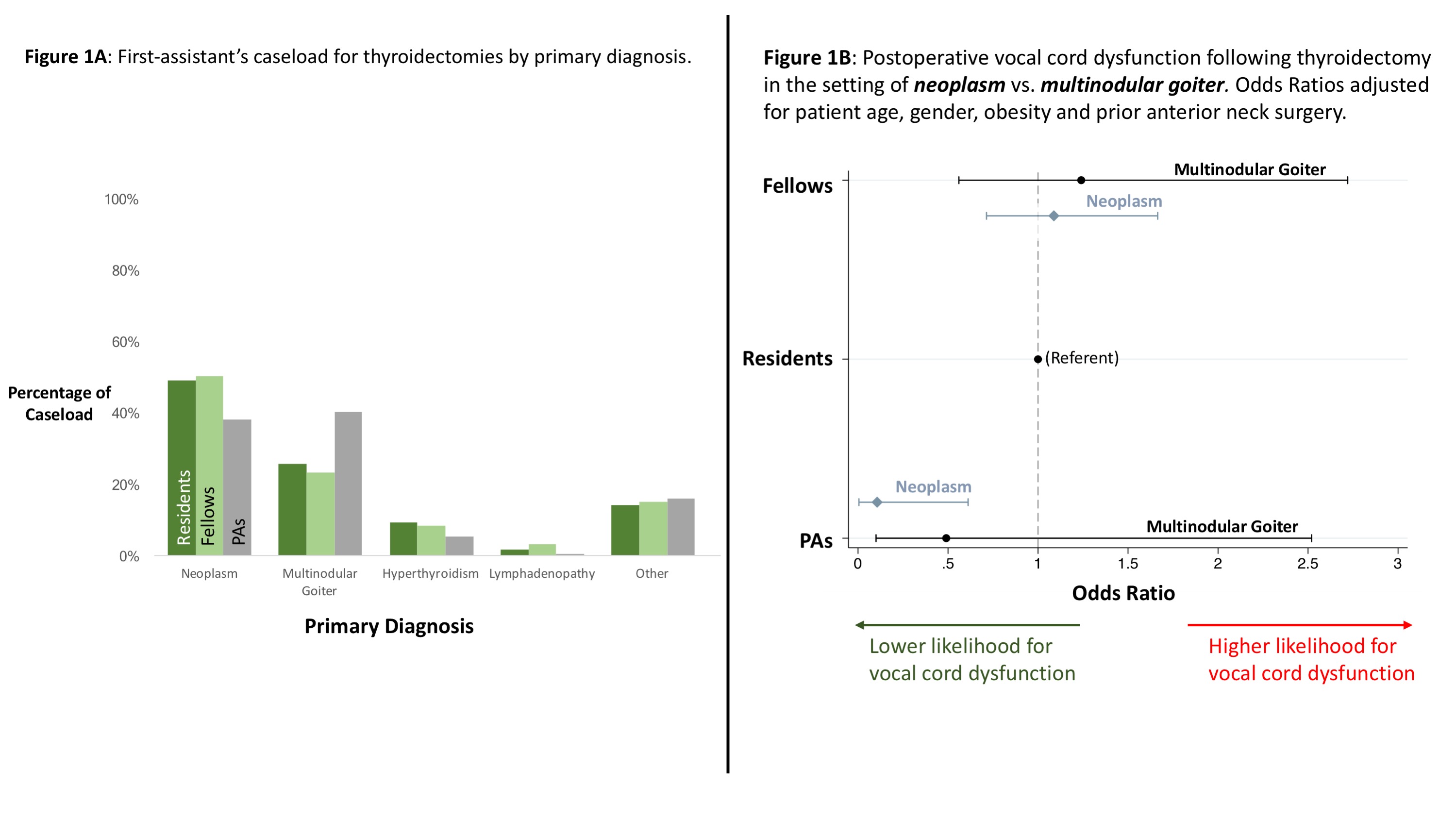 ---
Back to 2018 Program