---
Impact of Hepatectomy First in Management of Stage IV Colon Cancer with Synchronous Liver Metastases
*Vadim Kurbatov, *Benjamin Resio, *Danielle Heller, *Jun Lu, Sajid Khan
Yale College of Medicine, New Haven, CT
Objectives:
Patients with resectable synchronous colon liver metastasis (SCLM) can be surgically managed with different approaches. No level 1 data shows which approach equates to best clinical outcomes. In this study, we evaluate which treatment approach equates to the best clinical outcome for patients who present with SCLM.
Design:
The National Cancer Database was queried from 2004-2015 for stage IV colon adenocarcinoma. Patients with isolated SCLMs who underwent hepatectomy were divided into 2 groups: hepatectomy-first and either colectomy-first or simultaneous colectomy and hepatectomy.
Main Outcome Measures:
Clinical characteristics and survival were compared between each group.
Results:
Of 508,820 patients diagnosed with colon adenocarcinoma, 32,476 (63.8%) had SCLMs. Of these, 4138 (5%) were treated with a hepatectomy-first approach. On Chi Square analysis, these patients more likely to possessed the following clinicopathologic features: age <60 years (P<0.0001), non-white (P<0.0001), primary tumor size <4cm (P<0.0001), no lymph node metastases (p<.0001), received chemotherapy (P<0.0001), and treated at an academic center (p<.05). After adjusting for patient, treatment and tumor characteristics, individuals treated with a hepatectomy-first approach were less likely to die than those who underwent a colectomy-first or simultaneous hepatectomy and colectomy approach, with respective 5-year survivals of 47% vs. 29% (HR: 0.64 (95CI: 0.61-0.68) P<0.0001). [Figure 1].
Conclusions:
In the United States, a hepatectomy-first approach to managing SCLM is infrequently used even though it is associated with increased survival, particularly when subsequent colectomy is completed. There is a need for better understanding of the biological underpinnings which may explain these results.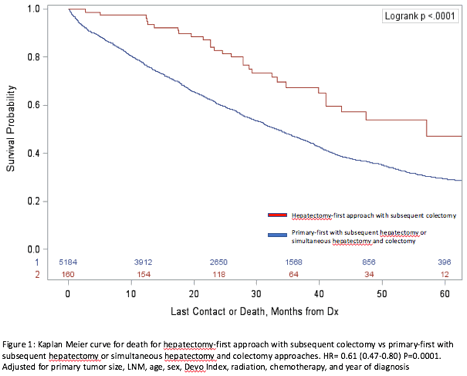 ---
Back to 2018 Program