---
Identifying Preoperative Predictors of Weight Loss and Weight Regain after Roux-en-Y Gastric Bypass: a Prospective Human Study
*Hassan Aliakbarian, *Keyvan Heshmati, Eric Sheu, Ali Tavakkoli
Brigham and Women's Hospital, Boston, MA
Objective: Variability of weight loss and concern about subsequent weight regain are major concerns for patients considering bariatric surgery. Our goal is to evaluate the role of pre-operative hormones in predicting maximal total body weight Loss (%TBWLmax) and risk of Weight Regain (WR) after Roux-en-Y Gastric Bypass surgery (RYGB). Design: Prospective cohort study Setting: Tertiary academic medical center
Patients: 101 adult obese patients undergoing RYGB with 3-year follow-up data
Interventions: Recording baseline demographics and measurement of fasting glucose, HbA1c, insulin, glucagon, ghrelin, leptin, GLP-1 and GIP levels on day of surgery.
Main Outcome Measures: %TBWLmax was calculated using lowest recorded weight in the 2-years after surgery. WR was defined as percentage of %TBWLmax that was regained during the 3 operative years.
Results: The cohort had a mean age of 44.5±1.3years, initial-BMI of 45.3±0.7kg/m2. There was expected variation in weight loss outcomes (Figure1). On stepwise multivariate regression, higher fasting ghrelin (p<0.05) and lower age (p<0.01) were associated with greater %TBWLmax. In sub-group multivariate analysis of T2D patients, baseline glucagon levels were also associated with %TBWLmax.
Following similar analysis, lower leptin, lower %TBWLmax and lower GIP were risk factors for greater WR (p<0.05). T2D patients on insulin pre-surgery had lower risk of WR than those on oral medication. Conclusions: Higher fasting ghrelin levels and lower age are predictors of greater %TBWLmax after RYGB. Lower leptin, %TBWLmax and GIP are risk factors for later WR. Such markers can help develop models to better inform patients about their anticipated %TBWLmax and chances of WR.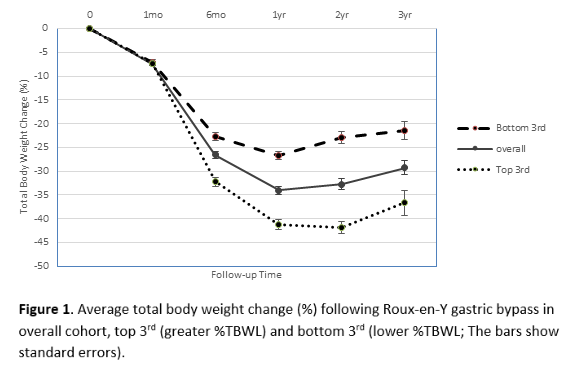 ---
Back to 2018 Program