---
Trends in management of squamous cell carcinoma of the anus in cancer centers across New England & the United States: the surgeon's role.
Victor E Pricolo1, *Kyle Viani2, *Matteo Bonvini3, *Carlo Abelli4, *Tracey McDuffie2
1Southcoast Health, Alpert Medical School of Brown University, North Dartmouth, MA;2Southcoast Health, North Dartmouth, MA;3Harvard University, Cambridge, MA;4Yale University, New Haven, CT
Objective: Epidemiology, staging and therapy utilization in patients with squamous cell carcinoma of the anus (SCCA). Design: Case series. Setting: National Cancer Data Base - American College of Surgeons' Commission on Cancer. Patients: Patients treated for SCCA in 109 cancer centers in New England (NE, n=2,392) and in 1513 cancer centers in the United States (US, n=40,817) between 2003 and 2013. Main Outcome Measures: Incidence, age, gender, distance traveled, stage, utilization of surgery, chemotherapy, and radiotherapy as first course treatment (FCT). Results: Over the 11-year period, incidence increased by 81% in NE and 76% in US. Age, gender and stage distribution were similar between NE and US. Stage unknown was 9.4% in NE and 11.8% in US, higher than common cancers, e.g. colon (7.8%), breast (4.3%) or prostate (6%)(p<0.001). Patients in southern NE (SNE), compared with northern NE (NNE), traveled <10 miles more often (53.8% vs 38.1%) and >25 miles less often (14.1% vs 28.7%)(p<0.001). Proportion of early stage cases (0, I) was greater in SNE (29.3%) than NNE (21.7%)(p<0.001). Surgery alone as FCT rates were similar for stage 0 (NE=77.1%, US=74.9%), and for stage I (NE=27.4%, US=24.4%.) Surgery as FCT, alone or with chemotherapy and/or radiation, for all stages, was also similar in NE (39.5%) and US (38.9%). Conclusions: The incidence of SCCA is steadily increasing. Its staging has a high incidence of "unknown". Travel distance and stage at diagnosis data may reflect regional differences in cancer center care access. The surgeon's role needs to evolve for quality improvement.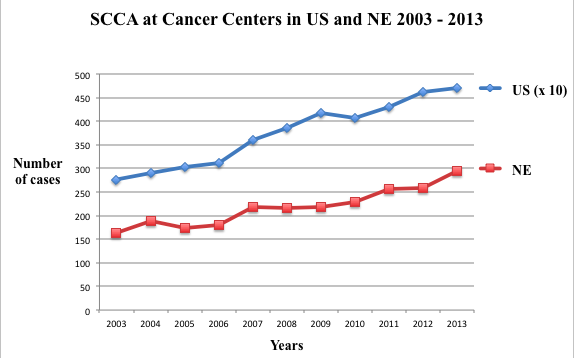 ---
Back to 2016 Annual Meeting