Back to 2015 Annual Meeting Posters
---
Mutational Burden in the Neuroblastoma Genome Varies by Race
*Jill C. Rubinstein, *Emily R Christison-Lagay
Yale School of Medicine, New Haven, CT
Objective: To assess for variation in the total burden of single nucleotide substitution in the neuroblastoma exome which might account for previously observed racially variant outcomes and treatment response.
Design: Exomic portions were extracted from whole genome sequencing data of forty patients with metastatic neuroblastoma tumors and matched blood samples. Single nucleotide substitutions (SNS) were identified using SAMtools software and filtered to exclude variants with dbSNP identifiers. Samples were annotated with clinical parameters including age, race, recurrence, survival, and n-MYC status.
Setting: This is a bioinformatics study using published data from clinical tissue samples obtained from a multi-institutional consortium of academic research centers.
Patients: Forty patients with metastatic neuroblastoma selected at random from a tumor registry housed at the Memorial Sloan-Kettering Cancer Center, St. Jude's Children's Research Hospital, and Washington University in St. Louis.
Interventions: -
Main Outcome Measures: Genome-wide exomic burden of single nucleotide substitution.
Results: African-American patients with metastatic neuroblastoma had a nearly two-fold higher burden of exomic SNS compared to the Caucasian, Hispanic, and Asian portions of the cohort (p-value: 3.7e-5)(Figure 1). The increased burden is equally apparent across all chromosomes. The SNS count was not significantly associated with n-MYC status, age, or survival.
Conclusions: African-American children with neuroblastoma are known to have a higher prevalence of high-risk disease than Caucasians with an associated decrease in event free survival and resistance to chemotherapy. This study raises the possibility that race-specific increases in genomic variation may in part explain these survival differences.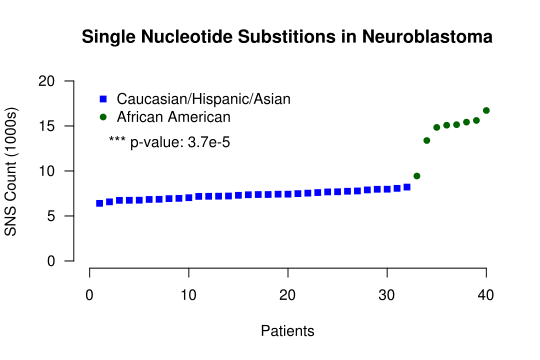 ---
Back to 2015 Annual Meeting Posters