Back to 2015 Annual Meeting Posters
---
Trends in Emergent Ventral Hernia Repair - Is Massachusetts the Exception? 
*Mariam F. Eskander, *Lindsay A. Bliss, *Susanna WL. de Geus, *Sing Chau Ng, Jennifer F. Tseng
Beth Israel Deaconess Medical Center, Boston, MA
Objective: To compare characteristics of emergent vs. non-emergent ventral hernia repairs in Massachusetts (MA) and the nation over time. We hypothesized that due to increasing insurance coverage, MA would have a declining rate of emergent hernia repairs, particularly among the underinsured.
Design: Retrospective review of large databases.
Setting: MA State Inpatient Database (2002-2012) vs. Nationwide Inpatient Sample (2002-2011)
Patients: Patients 18-64 years old who had a ventral hernia repair and a primary diagnosis of ventral hernia.
Interventions: Emergent vs. non-emergent hernia repair.
Main Outcome Measure: Emergent hernia repair rate in whole population and stratified by insurance status.
Results: 11,971 ventral hernias repairs were performed in MA (20.4% emergent) and 487,303 in the US (19.5% emergent.) A higher rate of patients 60-64 received emergent vs. non-emergent repairs in MA (19.6% vs 17.9%, p=0.0134) and the reverse in NIS (15.2% vs. 16.7%, p<0.0001.) In both populations, more women, non-white, and uninsured patients with more comorbidities received emergent repairs. The rate of emergent ventral hernia repairs is increasing in both MA and the US (p<0.0001), particularly among the privately insured; however, in MA's underinsured population, unlike NIS, the rate of emergent hernias did not change significantly (p=0.5754) (Figure).
Conclusions: Although MA shows the same overall rising rate of emergent hernia repairs as the rest of the nation, this trend is not evident in the state's underinsured population. The driver of the increase in emergent hernia repairs appears to be the privately insured.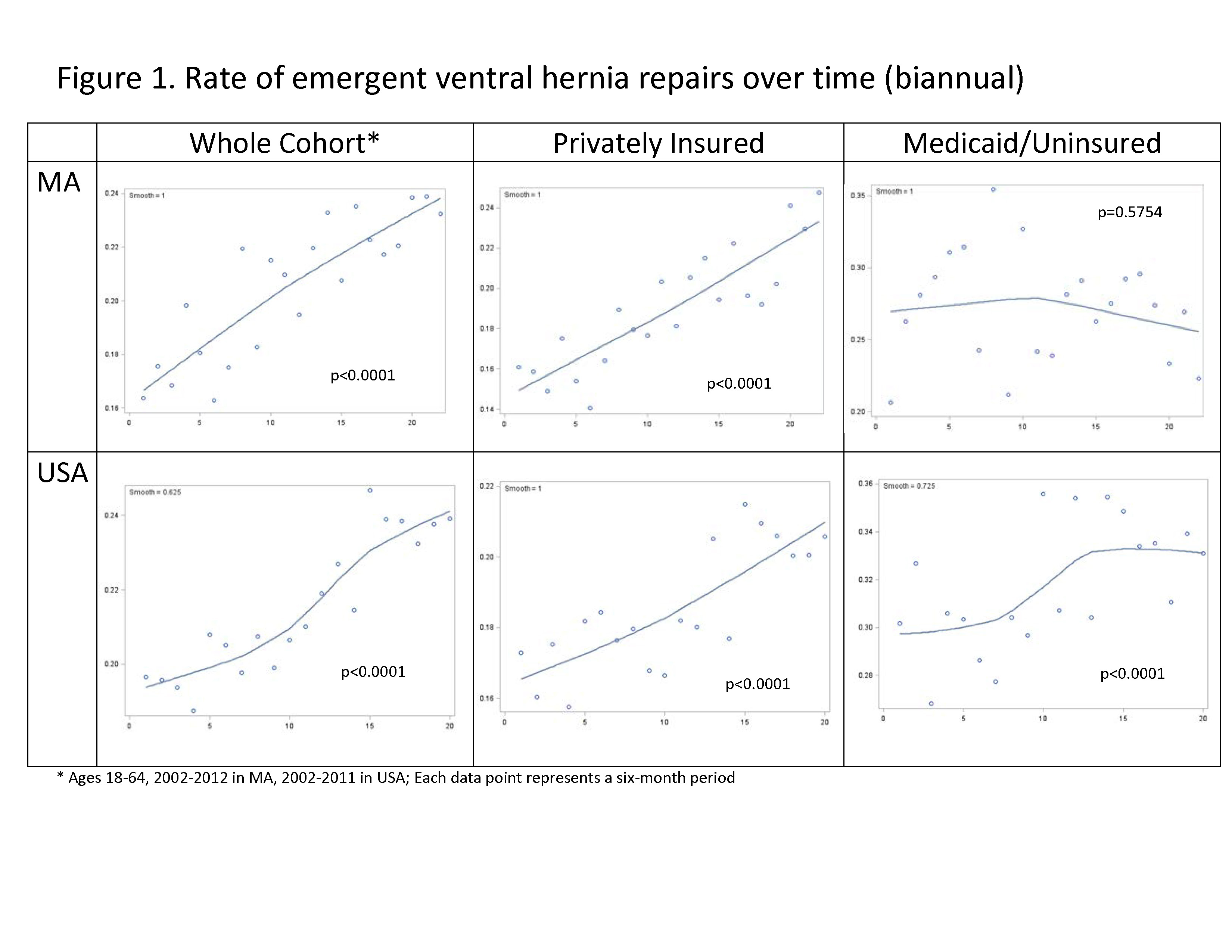 ---
Back to 2015 Annual Meeting Posters