Back to Annual Meeting Posters
---
Hippo Signaling Pathway Alterations During Liver Regeneration
*James L Grijalva1, *Fernando Camargo1, *Ghazaleh Sadri-Vakili2, *Khashayar Vakili1
1Boston Children's Hospital, Boston, MA;2Massachusetts General Hospital, Boston, MA
Objective
Signals involved in termination of liver regeneration (LR) are unknown. The transcription co-activator YAP stimulates hepatocyte proliferation and is regulated by the Hippo signaling pathway. The Hippo pathway has been implicated in organ size regulation; its role in LR is unknown. We hypothesized that the Hippo pathway plays a role in LR. We sought to characterize alterations in Hippo kinases Mst1/2 and Lats1 and in active YAP and inactive phosphorylated YAP (pYAP) during LR.
Interventions/Outcome
70% partial hepatectomy (PH) model in rats was used. Resected livers represented quiescent livers (control). Remnant livers were subsequently collected at 1, 7, 10, 14, 21, and 30 days (n=4/group). Remnant liver/body weight ratios were calculated. Liver extracts were subjected to western blot analysis using anti-YAP, anti-pYAP, anti-phosphorylated Mst1/2 (pMst1/2), and anti-phosphorylated Lats1 (pLats1) antibodies. Each animal served as its own control.
Results
Initial increase in total YAP was observed following PH. Significant decrease in pYAP was observed following day 1 post PH that continued through day 14. Significant decrease in pLats was observed at day 1 post PH, however, no significant alterations in pMst1/2 were observed. Liver/body weight ratio after PH approached preoperative levels by 7 days.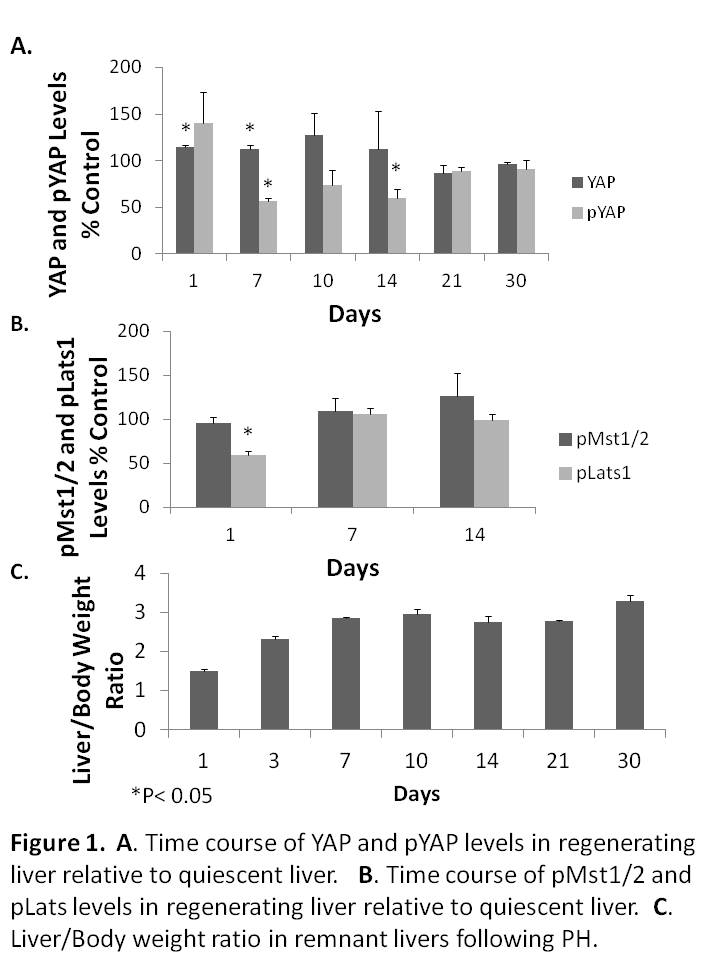 Conclusions
Our findings demonstrate decreased pYAP (inactive YAP), therefore increased active YAP, through day 14 following PH during the most significant increase in liver/body weight ratio. In addition we observed decreased pLats, an upstream inhibitor of YAP, indicating significant alterations in the Hippo pathway. The Hippo pathway could serve as a potential target for enhancing LR.
---
Back to Annual Meeting Posters