Back to Annual Meeting Posters
---
Portal Vein Reconstruction With Bovine Patch During Pancreaticoduodenectomy: A Case Series
*Angela Jellison, Lisa Rutstein, Robert Hawkins
Maine Medical Center, Portland, ME
Portal Vein Reconstruction With Bovine Patch During Pancreaticoduodenectomy: A Case Series
Objective:
Portal vein reconstruction during pancreaticoduodenectomy has been shown to have equivalent survival rates compared to pancreaticoduodenectomy alone, and may increase the likelihood of R0 resections. Many prosthetic and autogenous conduits have been described in the literature. We examined the use of bovine patch for portal vein reconstruction.
Design: Case series: retrospective review of a prospective database.
Setting: Single tertiary care center
Patients: Thirteen patients undergoing pancreaticoduodenectomy or pancreatectomy with vascular reconstruction between 2004 and 2012.
Intervention: Bovine patch reconstruction
Maine Outcome Measure: Portal Vein Patency
Results:
Thirteen patients underwent portal vein reconstruction with bovine patch. Mean patient age was 61. Pancreas adenocarcinoma was the most common diagnosis (n= 10, 77%). Pancreaticoduodenectomy was performed in twelve patients (92%) and pancreatectomy in one patient (8%). Mean operative time was 382 minutes (220-605), with mean blood loss of 704 mL (200-1800). Post-operative complications included two patients with superficial wound infections, one patient with a pancreatic leak treated with percutaneous drainage and one patient with hemorrhage. There was one thirty-day mortality. No patients developed clinically significant hepatic dysfunction. Two patients had portal vein narrowing identified on post-operative CT imaging; no patient developed portal vein thrombosis.
Conclusion:
Portal vein bovine patch reconstruction is an option for patients undergoing pancreaticoduodenectomy or pancreatectomy with involvement of the portal vein or confluence. This technique prevents the additional morbidity of autogenous vein harvesting and does not require circumferential resection to achieve an R0 resection while achieving adequate patency.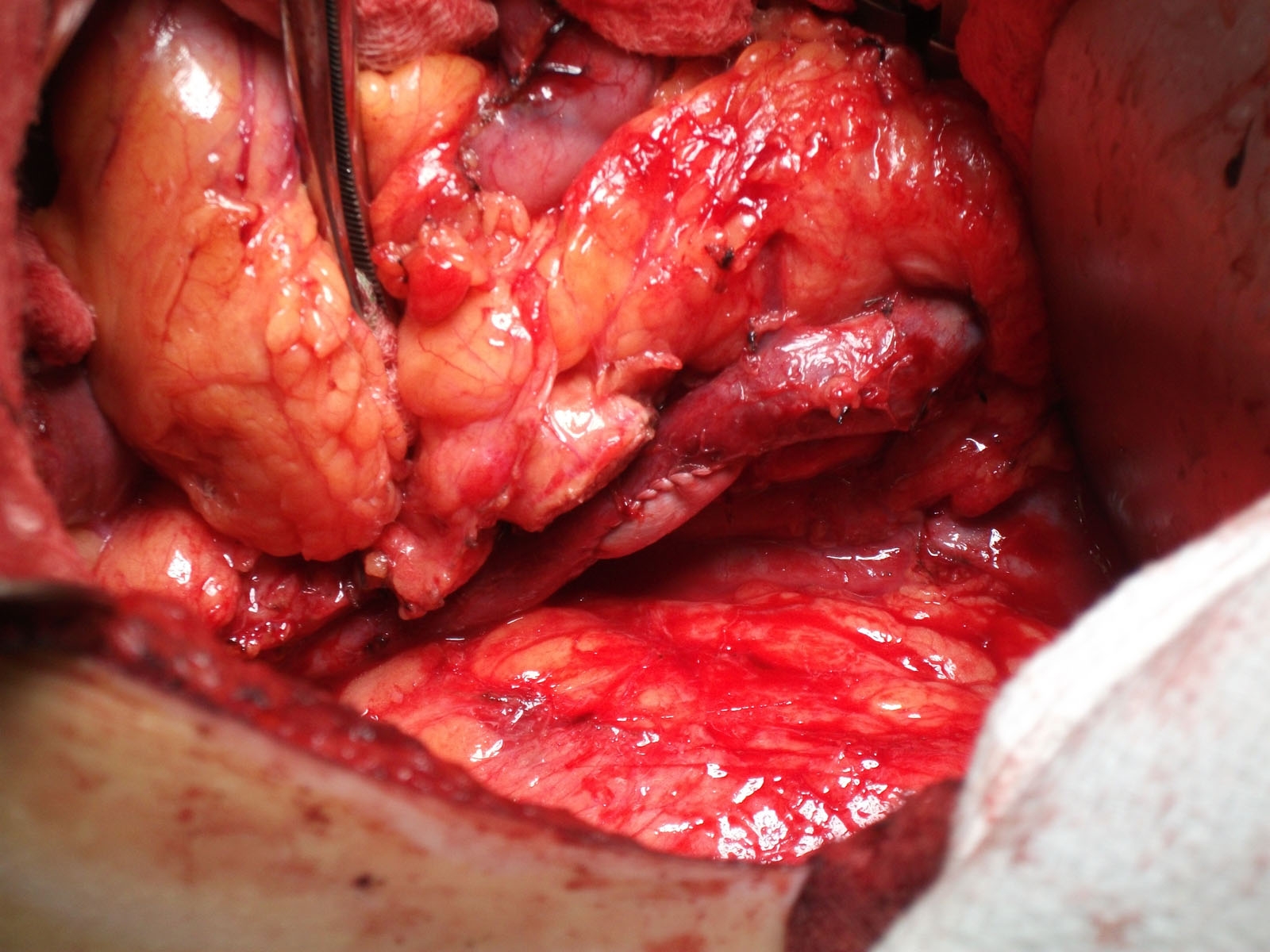 ---
Back to Annual Meeting Posters