Back to Annual Meeting Program
---
A Bariatric Surgery Center of Excellence: the Test of Time
*Rayford S Kruger, *Thomas T Streeter, *Donald A Colacchio, *Urszula A Andrade, Victor E Pricolo
Southcoast Health System - Tobey Hospital, Wareham, MA
Objective:
Assess postoperative complications, long-term outcome and operative trends from a large bariatric surgery program.
Design:
Single institution consecutive case series.
Setting:
Center of excellence within health care system.
Patients:
3,460 patients, 574 males (16.6%), 2,886 females (83.4 %), aged 18-74 years (mean= 44), underwent 3,503 bariatric operations from 1-8-2004 to 3-31-2013.
Interventions:
Primary procedures included Roux-en-Y gastric bypass (RY) (n=2,966), adjustable band (AB) (n=352) and sleeve gastrectomy (SG) (n=118). There were 67 revisional procedures (RP) (graph 1). Average operative times (minutes) for the last 18 months (979 cases) were RY=53; AB=33, SG=47, RP=74. Follow-up intervals were scheduled according to practice guidelines.
Main Outcome Measures:
Hospital length of stay (LOS), major 30-day morbidity and mortality, weight loss per procedure at follow-up.
Results:
Average LOS (days) was: RY=1.71, AB=1.01, SG=2.16, RP=2.97, decreasing over time. Major complications (overall %) were: mortality=0.1; leaks=0.5; bleeds=2.4; pneumonia=0.6; VTE=0.4; re-operations=3.1. For follow-up compliance see graph 2. Average weight loss over time, in lbs. (% excess), was highest for RY= 1 yr:102(70%), 2 yrs:101(71%), 5 yrs:89(61%), 8 yrs:68(50%); lowest for AB= 1 yr: 50(40%), 2 yrs:51(41%), 5 yrs:45(37%); and intermediate for SG= 1 yr:83(60%), 2 yrs:64(41%).
Conclusions:
Our bariatric program experienced recent increases in SG and RP, with decrease in AB. Optimization of care yielded reduction in OR time, LOS and post-operative complications. High follow-up compliance provided long-term weight loss maintenance data.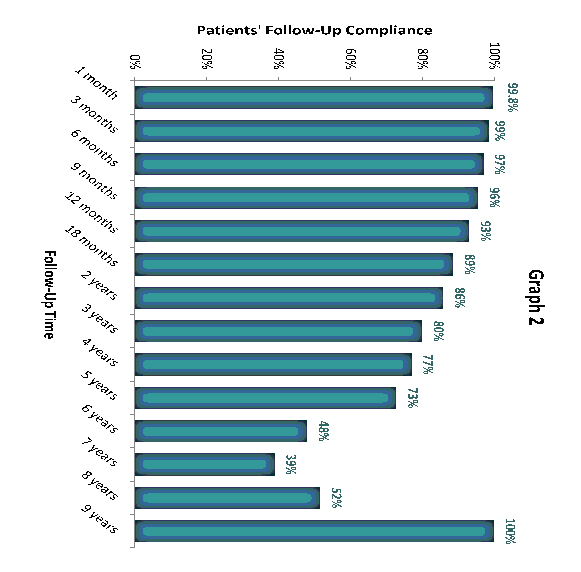 ---
Back to Annual Meeting Program