Back to Annual Meeting Program
---
Surgical Site Infection Surveillance Within a Colorectal Practice: Inpatient to Outpatient Clinical Integration and an Analysis of Pre-operative Risk Factors
*Christopher L Binette1, *Gerald Gantt1, Paul V. Vignati2, *Bert Gay3, *Ilene Staff2, *Manish Tandon2, Orlando C Kirton1,2
1University of Connecticut, Farmington, CT;2Hartford Hospital, Hartford, CT;3Hartford Physician Hospital Organization, Hartford, CT
Objective:
Surgical Site Infections(SSIs) are a surgical risk. Most studies use only inpatient information to determine the rate. Four colorectal surgeons tracked post-op infections from inpatient through outpatient visits.
Design:
Prospective accrual occurred from May-October 2009. Selection was not controlled for previous surgery, co-morbidities, age, or gender. Chi-square tests of proportions and independent group t-tests were used to compare those infected and non-infected. A multivariate logistic regression predicting infection was run with demographics and risk factors included as potential predictors.
Settings:
Single Tertiary Care Center in New England.
Patients:
Individuals receiving small or large bowel surgery.
Interventions:
Small or large bowel surgery.
Main Outcome Measures:
Establish rate of post-op surgical site infections in colorectal procedures and compare pre-operative comorbidities amongst groups.
Results:
298 patients were included. 22 patients(7.38%) had a SSI. An additional 10 demonstrated associated symptoms such as site erythema, drainage, fever, or were on an unrelated antibiotics course but had no infection. BMI, tobacco use, diabetes, COPD or ASA class were not significant between the groups. Latinos were at increased risk in both univariate and multivariate analysis.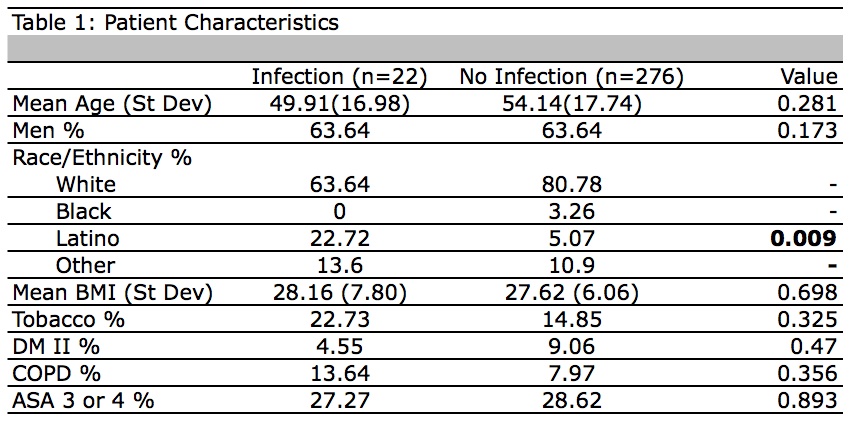 Conclusions:
This study quantified SSI rate across the spectrum of care. Comorbidities including BMI, smoking, DM, COPD, and ASA class were not helpful in predicting SSI. Latino ethnicity, a possible surrogate for low socio-economic status in the practice's surgical population, carried an increased risk for infection and requires further investigation. The majority of post-op SSI were identified in the outpatient setting demonstrating the importance of outpatient surveillance.
---
Back to Annual Meeting Program




IMPORTANT DATES

Abstract Submission Deadline:
May 5, 2014

Housing Deadline:
August 13, 2014

Early Bird Registration Deadline:
August 11, 2014