---
Construct and Face Validity of a Novel Virtual Reality-Based Camera Navigation Curriculum
*Shohan Shetty1, *Lucian Panait1, *Jacob Baranoski2, Robert L. Bell2, *Kurt E. Roberts2, *Andrew J. Duffy2
1St Mary's Hospital, Waterbury, CT;2Yale University School of Medicine, New Haven, CT
Objective:
We developed and implemented a novel curriculum on the LapSimTM virtual reality (VR) simulator platform (Surgical Science, Göteborg, Sweden). Our goal is to improve camera handling skills in our residents and students.
We hypothesize that our curriculum will demonstrate construct and face validity, distinguishing levels of laparoscopic experience as part of a realistic training experience.
Design: Before and after trial.
Setting: University skill training laboratory.
Participants: Forty-one participants, including 29 novices, 6 intermediates and 6 experts contributed.
Interventions:
Subjects were stratified by laparoscopic experience. Face validity was assessed with questionnaires. The modules include camera navigation, coordination, and target visualization using 0 and 30 degree laparoscopes. Metrics include time, target misses, drift, path length, and tissue contact. Data were analyzed using ANOVA.
Main Outcome Measures: The average number of practice repetitions to complete each module was calculated.
Results:
Significant differences were noted in repetitions required to complete the curriculum; 41.8 for novices, 21.2 for intermediates and 11.7 for experts (p<0.05) (Figure). In the individual modules, coordination required 13.3 attempts for novices, 4.2 for intermediates and 1.7 for experts (p<0.05). Target visualization required 19.3 for novices, 13.2 for intermediates and 8.2 for experts (p<0.05).
Participants believe the training improves camera handling skills (95%), is relevant to surgery (95%), and is a valid training tool (93%). Graphics (98%) and realism (93%) were highly regarded.
Conclusions:
The VR-based camera navigation curriculum demonstrates construct and face validity for our training population. Camera navigation simulation should be integrated into training protocols for residents and students.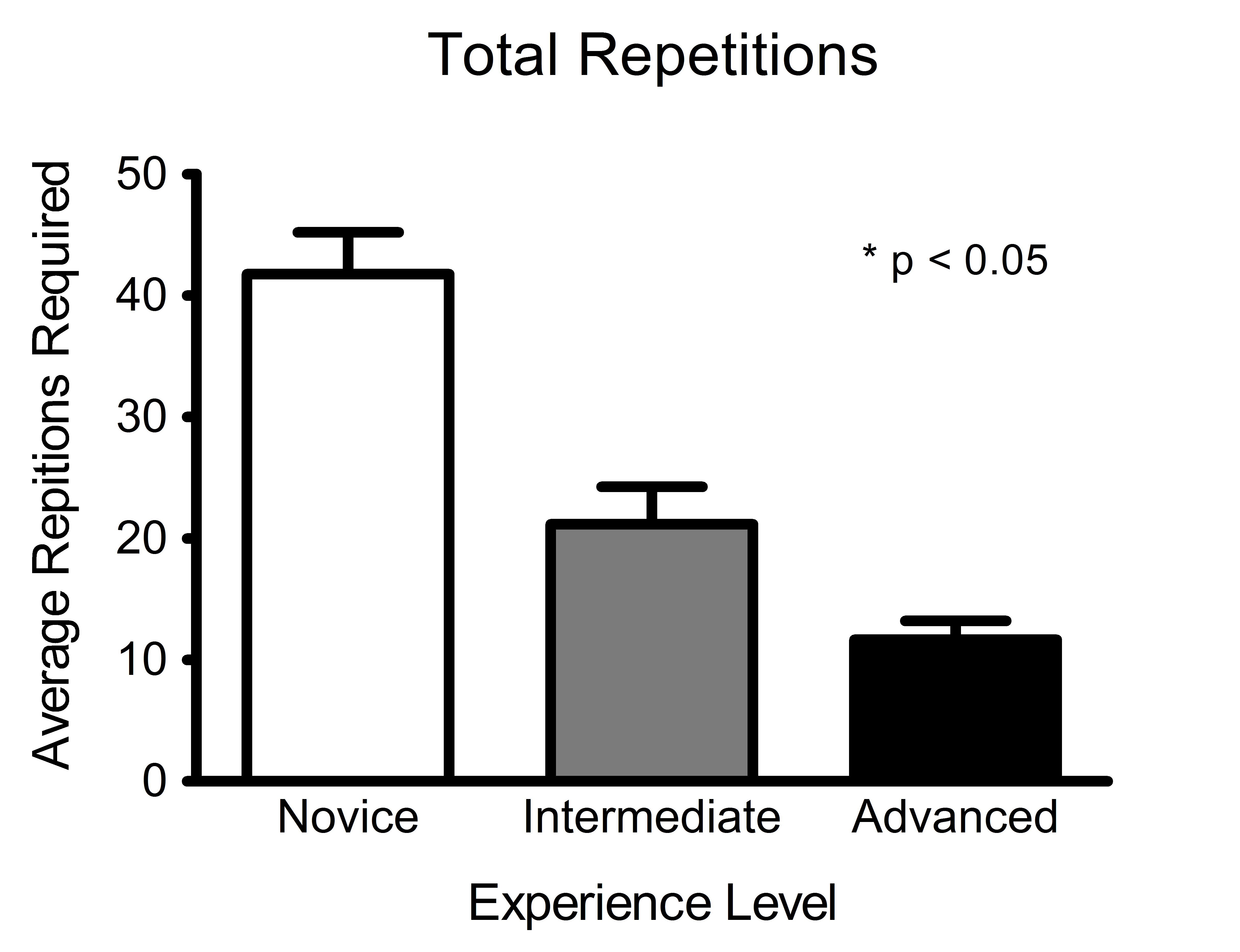 ---
Back to 2011 Program