---
How We Fix the Hole: Trends in the Surgical Management of Colonoscopic Perforation
*Peter E. Miller, *Justin Lee, *Haisar Dao, *Alan Hackford, Marvin J. Lopez
Saint Elizabeth's Medical Center, Boston, MA
Objective: Colonic perforation is an uncommon complication associated with colonoscopy. This study analyzed the trends in surgical repair and the financial impact of laparoscopic vs open repair.
Design: Retrospective database analysis
Setting: The National Inpatient Sample (NIS) Database 2000-2008
Patients: All hospitalized patients who underwent colonoscopy with a diagnosis of perforation of intestine or laceration during a procedure were selected from 9 years of the NIS database (n=47,246).
Interventions: None
Main Outcome Measures: Incidence, surgical approach, hospital length of stay, total hospital charge.
Results: From 2000-2008, approximately 6,133,694 hospital discharge records were identified for patients who had undergone colonoscopic intervention. Colonoscopic perforation occurred in 47,246 patients (0.8%). Approximately half of these patients underwent a segmental colonic resection (49.6%). Other common surgical interventions performed included total colectomy (3.3%) and laparoscopic repair (3.3%). Almost ¼ of all patients with perforation required creation of an ostomy (22.7%). The utilization of laparoscopy increased 3-fold during the study period (1.7% to 5.1%, p <.001) and was associated with a decreased length of stay (10.96 ± 0.12 days vs 15.02 ± 0.04 days, p < .001) and lower mean total charge ( $60,739.22 ± 308.54 vs $74,314.73 ± 864.73, p < .001).
Conclusions: Colonic perforation is a less common but serious complication of colonoscopy. The majority of patients that require surgery undergo a segmental repair but the utilization of laparoscopy is increasing with an associated reduction in total hospital charge and mean stay when compared with those undergoing an open procedure.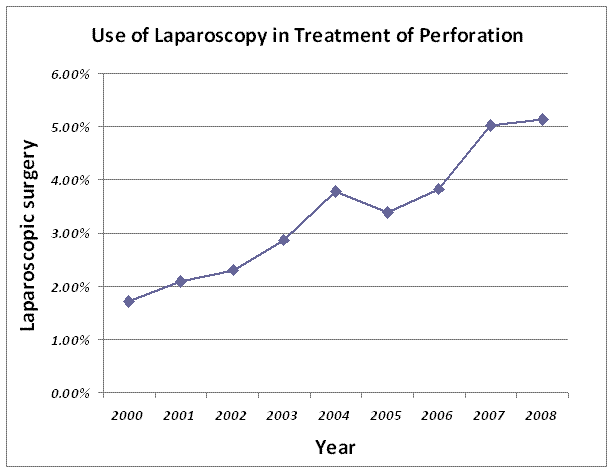 ---
Back to 2011 Program