---
Creating a Pro-Survival Phenotype Through Pharmacologic Treatment in a Lethal Two-Hit Model
*Zhengcai Liu, *Yongqing Li, *Wei Chong, *Baoling Liu, *Jennifer Lu, *Guang Jin, George C. Velmahos, *Marc A. deMoya, *David R. King, *Hasan B Alam
Massachusetts General Hospital/Harvard, Boston, MA
Objective: Hemorrhagic shock (HS) can initiate systemic inflammatory response and multiple organ failure, especially if followed by an infection ("second hit"). We have shown that histone deacetylase inhibitors (HDACI) can improve survival in models of HS or septic shock (SS), individually. Now, we examined if valproic acid (VPA), an HDACI, prolongs survival in a "two-hit" model: HS followed by SS from cecal ligation and puncture (CLP).
Design: Controlled in vivo study.
Setting: University hospital research laboratory.
Subjects: Male Sprague Dawley (SD) rats.
Intervention: Male SD rats (250-300 g) were subjected to 40% blood loss and divided into 2 groups (n=6/group): The VPA group was treated with VPA (300 mg/kg in 200 μl normal saline [NS], i.p.). The control group was injected with 200 μl of NS vehicle. After 24 h, all rats received CLP followed by injection of the same dose of VPA (VPA group) or NS (vehicle group).
Main Outcome Measures: Survival was monitored for 10 days. In a parallel study, peritoneal irrigation fluid from VPA or control rats was collected 3 h after CLP, and ELISA performed to analyze myeloperoxidase (MPO) activity and TNF-α concentration.
Results: Rats treated with VPA (300 mg/kg) showed significantly higher (figure) survival rates (83.3%) compared to the control (16.7%). Moreover, VPA dramatically suppressed MPO activity (marker of neutrophils mediated oxidative damage) and inhibited levels of pro-inflammatory cytokine TNF-α in the peritoneal cavity.
Conclusions: We have demonstrated for the first time that VPA treatment improves survival and attenuates peritoneal inflammation in a rodent two-hit model.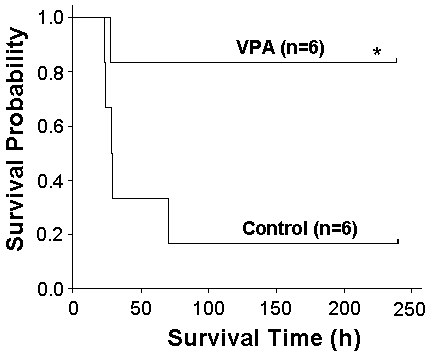 ---
Back to 2011 Program