---
Changing Volume of Cardiac Surgery in Northern New England: 2000 - 2009
Bruce J Leavitt1, Robert A Clough2, David Charlesworth3, William C Nugent4, Mitchell C Norotsky1, Robert S Kramer5, Jeremy S Morton5, *Gerald L Sardella6, *Carmine Frumiento7, *Robert E Helm8
1University of Vermont/Fletcher Allen Health Care, Burlington, VT;2Eastern Maine Medical Center, Bangor, ME;3Catholic Medical Center, Manchester, NH;4Dartmouth-Hitchock Medical Center, Lebanon, NH;5Maine Medical Center, Portland, ME;6Concord Hospital, Concord, NH;7Central Maine Medical Center, Lewiston, ME;8Portsmouth Regional Hospital, Portsmouth, NH
Objective:To study the changes in the volume of coronary artery bypass graft (CABG) surgery and heart valve surgery in northern New England from 2000 through 2009.
Design:Retrospective review of a regional cardiac surgery registry.
Setting:All hospitals in Maine, New Hampshire, and Vermont that perform cardiac surgery.
Patients:Consecutive patients who underwent CABG & valve surgery in Maine, New Hampshire and Vermont between 2000 and 2009.
Interventions:Cardiac surgery (CABG & valve procedures only)
Main Outcome Measures:CABG & valve heart surgical volumes between year 2000 and 2009.
Results:Between 2000 and 2009 overall CABG & valve surgery volumes diminished 40% (5014 to 2990 patients). CABG volume decreased 53%. Isolated valve surgery increased by 10% and CABG/valve surgery decreased by 17%. Aortic valve surgery (AVS) increased by 29% while mitral valve surgery (MVS) decreased by 44%. The use of biologic valves in isolated AVS increased 226% while mechanical valve choice in AVS decreased 37%. Despite the decrease in overall MVS, mitral valve repair increased from 57% to 65%.
Conclusions:Overall CABG and valve heart surgical volume from 2000 to 2009 decreased significantly in Maine, New Hampshire and Vermont. The decrease was primarily in patients having CABG. This decline reflects the changing practice of treated coronary artery disease. Overall valve surgery increased primarily from greater aortic valve procedures. The increased use of biologic valves with isolated AVS reflect both the increasing age of our population and biologic valve preference. The decline in mitral valve surgery is less understood.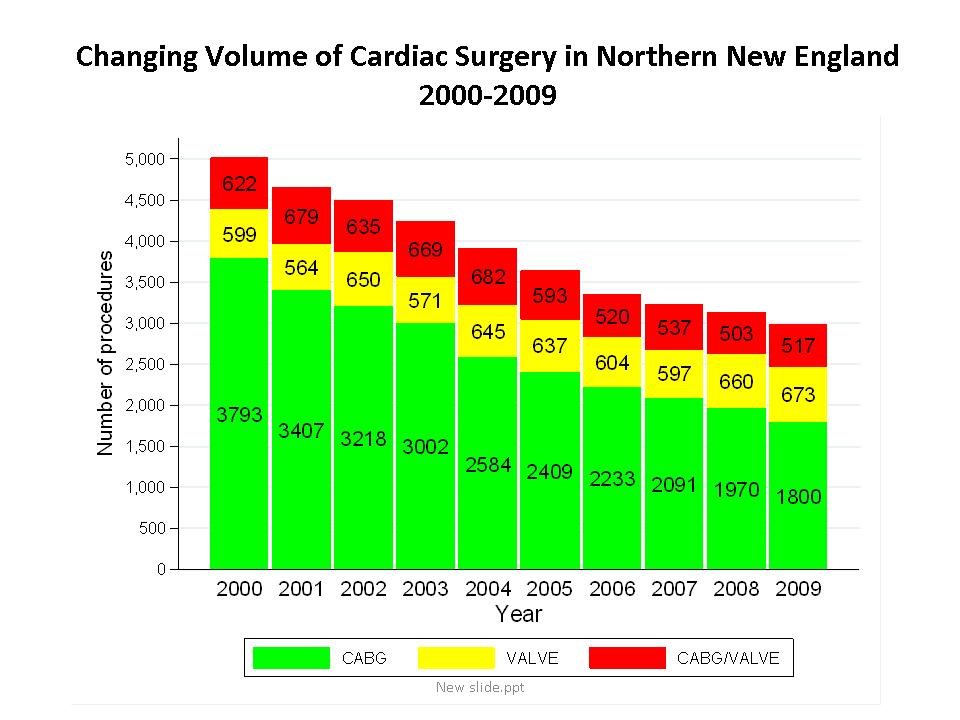 ---
Back to 2011 Program