---
Less is More: Management of Pediatric Spleen Injury
*Justin Lee1,2, Kevin P Moriarty1, David B Tashjian1
1Baystate Children's Hospital, Tufts University School of Medicine, Springfield, MA;2St. Elizabeth Medical Center, Tufts University School of Medicine, Boston, MA
Objective:
Evidence based practice guidelines for the management of pediatric traumatic spleen injury (TSI) has evolved with successful nonoperative management. This study analyzed national trends in the management of pediatric TSI.
Design:
Retrospective cohort analysis.
Setting and Patients:
All children aged 0 to 18 years who were hospitalized with TSI were selected from 9 years of National Inpatient Sample (NIS) database (2000-2008) and 3 years of Kid's Inpatient Database (KID) (2000 2003, 2006) (N=95,937).
Interventions:
None
Main Outcome Measures:
Rates of splenectomy, angioembolization, and transfusion were calculated and chronicled.
Results:
A total of 95,937 pediatric TSI were identified, characterized by a mean age of 13.65, 71.1% male, and 65.7% White. During the study period, the percentage of splenectomy decreased from 19.11% to 10.86% (P<0.001), with the most significant decrease in grade V blunt injury cases, 52.2% to 35.7% (P<0.001). Nonoperative management included almost three-fold increase in angioembolization, from 2.69% to 7.37% (P<0.001), and almost two-fold increase in transfusion, from 5.47% to 9.45% (P<0.001). Splenectomy was associated with increased mean length of stay (9.52 days versus 6.18 days, P<0.001) and higher mean total charge ($78,125.58 versus $37,084.42, P<0.001). Multivariable logistic regression identified rural location as an independent risk factor for splenectomy (1.312 OR, 1.148-1.499 CI, P<0.001).
Conclusions:
Children with TSI are undergoing less splenectomy but more angioembolization and transfusion. The most severe type of blunt TSI has experienced the most significant change in management. Children from rural areas may experience disparity in access to surgeons who have adopted changing guidelines.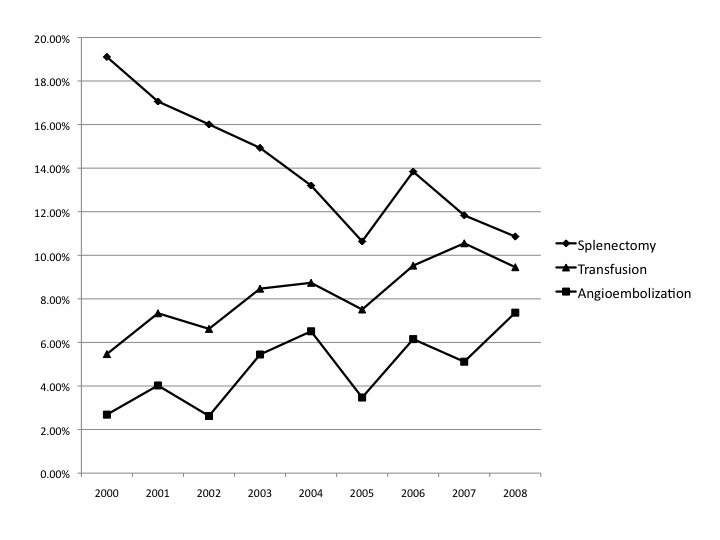 ---
Back to 2011 Program